If you run a website or social media account for a business, a unique logo may be important for you to be successful. It is often the case that hiring a professional designer to get a logo is much costly. Then, you can use DesignEvo logo maker to design a logo yourself. You can use it on your mobile as well as online on the computer. It would be much convenient to use it mobile version to make a logo anywhere you want.
What is DesignEvo?
DesignEvo is an easy to use and very practical app that is available on both Android & iOS devices. You can also use it online on your computer if you want. Here I'll introduce its Android version to you. It lets you design a logo at any time when you have any ideas. The android version of DesignEvo offers 3500+ professionally designed logo templates, hundreds of graphics, stylish fonts, and powerfully effective logo editing tools.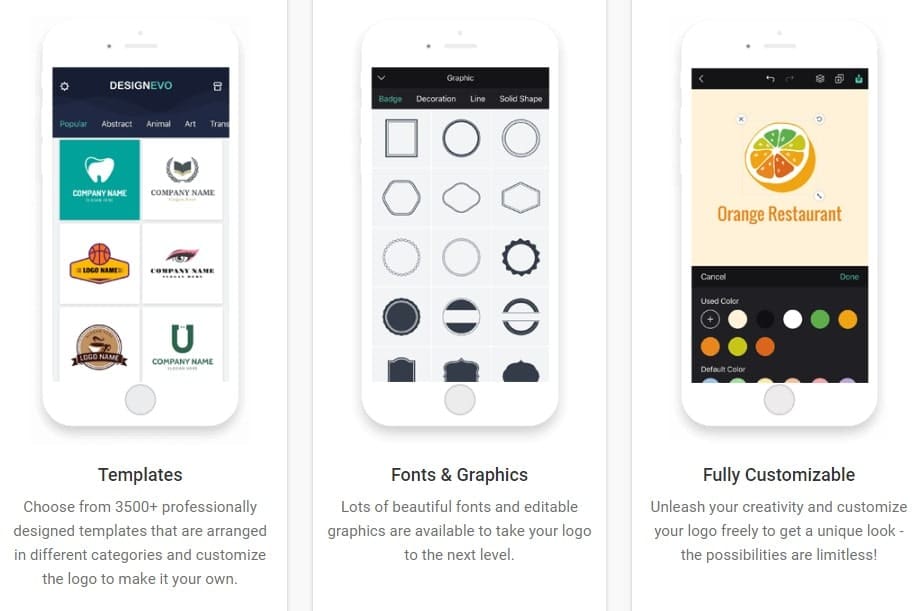 How to Use the Logo Maker?
With this easy to use logo maker tool, you can make your own logo in only three steps. Here we go.
Step 1: Choose a template
When you open the app, you will be welcomed by many logo templates in many different categories such as Abstract, Animal, Art, Business, Education, Fashion, Letter, Technology, etc. You can browse them one bu one in different category and choose the once that meet your needs to customize it.
Step 2: Personalize your logo
When it comes to personalizing your logo, you can make your logo unique with the handy editing tools. Add your company name or slogan to impress your potential customers. DesignEvo allows you to adjust the text by changing its font, color, rotation, spacing, curve, and many more. What I love is its Curve feature which would make the text look cool and great. Besides, you can add other graphics and adjust it to your liking. It's flexible to adjust the graphics' opacity, color, layer, and so on. If you want, just choose a desired graphic image from the preset one. Background is not a must. But you can change its background with DesignEvo's background tool.
Step 3: Save and share
Once everything looks great, click the icon right upper of the app to save your logo on your phone or just share it directly to where you want.
What's the Price?
The android version of DesignEvo is freemium. You can use it to make your own logo and save it for free. But if you want more logo template packages, you need to make some payments for its premium logo packages. Each package is priced differently just according to the number of its logo templates.
Company Info
DesignEvo is developed by PearlMountain Limited, which has focused on developing graphic design software since 2006. They aim to make professional photo editing and graphic design capability accessible to everyone. Recently, they just try their efforts to release a brand new app for video making. It's FlexClip, an all-in-one web tool for making videos, movies, and slideshows in minutes.
FlexClip is completely free. Everyone can use it to create a video with an easy to use and clean storyboard. It offers a large number of stock images, videos, and music resources, which can be used to make your video easier. Besides, it supports many photo and video formats. It is flexible to trim, split, add text(animations), music, watermark, etc. to your video to make it more appealing. Last but not least is that FelxClip allows you to export videos with high resolutions up to 1080p.