Eyeing for ways to recover deleted browsing history on Android?
Don't know what to do?
Follow our guide and learn to recover browsing data from your Android phone!
Android phones allow you to save all the data on your Google account and other Google-based facilities such as Google Drive.
It also plays a pivotal role in recovering such files or browsing data when you want to get them back in case of accidental deletion. So, it is very much possible to recover browsing history once you delete them from your Android smartphone.
If you have turned the Google synchronization on your Android to "ON" then it will sync each of your web files in the Chrome browser across all the devices that you own.
Through your Google account, you can quickly recover your data back to the Android device instantly. Here is the method to perform the recovery:
Launch the Chrome app on your Android phone and enter the link: www.google.com/settings
Sign in to your Google Account and enter your Google account credentials.
Tap on the "Data & Personalization" option;
Press the view all button under the "Things you create and do" section and look for Google Chrome's icon;
Tap on it and then hit the "Download Data" option to recover the deleted bookmarks and browsing history.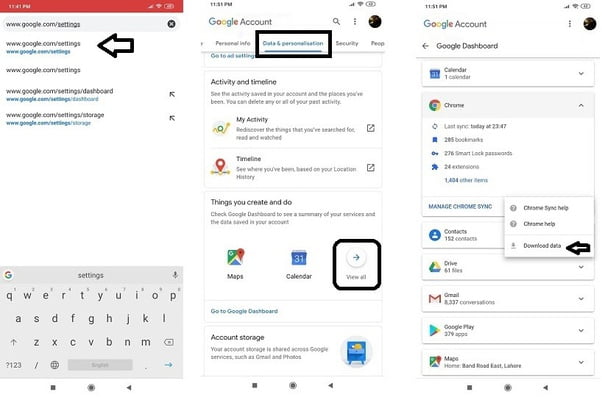 If you haven't synced your Android phone's data and browsing files, then you can use recovery software for getting back deleted internet history.