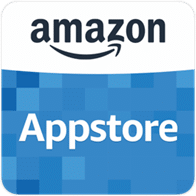 Amazon Appstore – Download the APK Right Now and Enjoy
Offered By Amazon.com, Inc. File Format APK
Size 15.1M Current Version N/A
The description of Amazon Appstore
Do you know? According to Google, nearly 1 Million people search for "amazon app store".
On this page, you can download Amazon Appstore apk which is 100% free!
The Amazon Appstore application is developed by Amazon.com. It was launched on March 22, 2011, and was made available in nearly 200 countries.
This Amazon Appstore app is basically an Android app just like the Google Play Store app. To date, it has millions of users worldwide.
How To Install Amazon Appstore App?
Step 1: Download Amazon Appstore apk file from this page.
Step 2: Enable Unknown sources from settings and confirm.
Step 3: Install and instantly Launch Amazon Appstore.
Features of Amazon Appstore:
Here are the following features you can get today for free:
Find and download thousands of apps available on the Amazon Appstore.
App of the day option in which a one featured app is displayed to experience.
Use Amazon Coins, a digital currency to spend while in-app purchases (100 Coins=$1).
App categories to install from the app category.
Get app Recommendations based upon your search history.
Explore other amazing features.
Go Premium:
You can purchase and install any app other than free apps:
Just Go to the Amazon Appstore from your smartphone.
Search desired apps.
Open the app details page for paid apps.
Finish the process via "Buy Now", "Download" or "Get Now" button.
That's it!
Good luck with your journey to explore thousands of apps within Amazon Appstore!
Additional Information
App Category:
Latest Version:
207.0.0.13.99
Requirements:
Android 5.0+
Report:
Download this APP