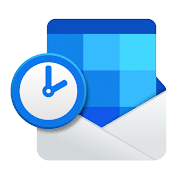 Temp Mail (v1.0.4.17) – The Best App for Temporary FAKE Email Address
Offered By Safe Watch File Format APK
Size 14M Current Version 1.0.4.17
The description of Temp Mail
Get your temporary email inbox generated at once with the Temp Mail app! No registration is required. No limits and charges – 100% FREE!
Are you tired of spam in your inbox?
You don't want to use your real email while signing up?
Just use the Temp Mail app for a temporary disposable fake email address!
The Temp Mail app is the best fake email generator app that lets you forget about annoying ads, spam, and phishing attempts coming to your real inbox by providing you with a unique and free temporary email address. You can get your random email address generated as soon as you access the app. After two days, your disposable email will be self-destructed.
With the Temp Mail app, you can keep your real inbox clean, safe, and spam-free. Also, the app lets you stay private and 100% anonymous while creating accounts on various online services and websites. What is more, no registration is required!
⚠ Be aware that only receiving emails is possible; you won't be able to send emails from your temporary fake email.
⚠ It is crucial not to use your temp mail for getting sensitive information or creating essential accounts.
Why Use Temp Mail App?
Keep your real inbox spam-free.
Stay private while signing up at new sites.
Get your temporary fake inbox right away.
Get letters stored for an unlimited period and then deleted.
Effortlessly manage your multiple inboxes.
Get new accounts access, discounts, and promo codes.
Features of Temp Mail App:
Totally FREE app.
No registration needed.
Get emails stored forever.
Protection of online privacy.
Multiple mailbox creation.
Free domain list access.
Edit email address names.
In-app emails view.
Install the Temp Mail app today and make a habit of using a temp email address every time you can, and you will forget about worthless junk in your inbox forever!
Additional Information
App Category:
Latest Version:
207.0.0.13.99
Requirements:
Android 5.0+
Report:
Download this APP