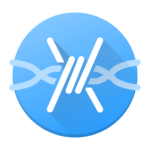 Download FrostWire Plus – Free Video & Music Downloader for Android (Version 2.1.3)
Offered By FrostWire File Format APK
Size 17.1M Current Version 2.1.3
The description of FrostWire Plus
FrostWire Plus is a FREE Android app that lets you download from BitTorrent, YouTube, SoundCloud and also works as a media player. So you can search, download and play whatever you want. You can even copy & past the YouTube link, SoundCloud link or .torrent/Magnet link into FrostWire's search bar and it will download the content for you.
The FrostWire media player is really minimalist and easy to use. You can order your playlist by songs, artists or albums. There is not any limitation in order to use FrostWire. You can download or play many songs or videos as you want. You can filter results by file type: Music, Videos, Images, Applications, Documents, Torrents.
FrostWire Plus is an open source app, so you can collaborate if you are a programmer or check the code by yourself. Unlike many apps, FrostWire doesn't hide its secrets!
Features of FrostWire Plus:
In-App Search – FrostWire connects to many different torrent search engines as well as YouTube, SoundCloud, and Archive.org to find millions of public domain, creative commons and free downloadable files – and unlike other BitTorrent clients – presents the results within the app itself not in a web browser.
Preview & Play While You Download – Stream files from YouTube and SoundCloud before you download. Start playing the BitTorrent media downloads way before transfers are complete.
Fast and Easy Downloads – Download any file with just one click – select a single file from a torrent or download the entire torrent package. Download a YouTube video or just its audio.
Media Player & Library – Easily access, browse and play all your media in one place. Create playlists and listen to your music in a car using the gesture-based audio player for Android!
Additional Information
App Category:
Latest Version:
207.0.0.13.99
Requirements:
Android 5.0+
Report:
Download this APP