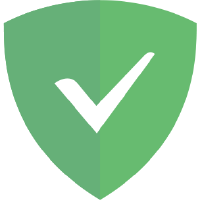 AdGuard for Android (v3.6) – FREE Ad Blocker for Rooted & Unrooted Devices
Offered By Adguard File Format APK
Size 36.8M Current Version 3.6
The description of AdGuard for Android
AdGuard is a unique no root ad blocker for Android that removes ads in apps and browsers, protects your privacy, and helps you manage your apps.
Features of AdGuard for Android
Blocks Ads Everywhere – Block throughout the whole system. This includes video ads and ads in your favorite apps, browsers, games, and any website you can imagine. Dozens of ad filters are available to you and are updated on a regular basis, guaranteeing the best filtering quality.
Cares about Your Privacy – Protecting your personal data is a top priority. With AdGuard, you and your sensitive data will be safe from any online tracker and analytics system that may attempt to steal your data while surfing the web.
Saves Your Traffic – More ads blocked means fewer ads loaded. Fewer ads loaded means more traffic saved. Simple math by AdGuard! Download the apk file, install the app and spend your traffic on things you like instead of wasting it on voracious ads.
Stay in Control – It is your device, after all, and you decide what gets filtered and what doesn't. A wide range of settings — from basic to 'pro' — as well as an Apps Management tool will help you customize the filtering to your liking.
Few FAQs About AdGuard for Android
Why is AdGuard for Android not in the Google Play Store?
Google has a very peculiar policy towards ad blockers in Play Store. Basically, it means that any app that can block ads across the device is not allowed there, leaving flimsy content blockers as the only option. AdGuard has been removed from the Play Store as well.
What's the difference between the free and Premium versions of AdGuard for Android?
While the free version is excellent at removing ads from browsers, it doesn't filter other apps' traffic. It also doesn't have the Safebrowsing feature.
What are the main features of AdGuard for Android?
You can find an overview of all the key functions of AdGuard for Android 
in this article
.
No, it is not necessary. Unlike many other ad blockers, AdGuard can work in VPN mode, which lets it block ads even on non-rooted devices.
Can I use a VPN app with AdGuard?
You can easily use AdGuard with AdGuard VPN. But in case you are using some third-party VPN — there can be problems.
The thing is, normally AdGuard ad blocker requires launching a local VPN on your device to do its job properly. On Android it's impossible to run two VPNs at the same time, so you can see where this is going. But luckily there are some ways to circumvent this limitation. If your device is rooted you can switch AdGuard to a "Local HTTP proxy" filtering mode, in fact, it is even encouraging to do that. This way your device's VPN "slot" can be occupied by a different app. Additionally, some VPNs allow the use of an upstream proxy (e.g., PIA VPN, Nord VPN) — check if your VPN provider of choice offers this option.
When it comes to AdGuard VPN, you don't need to perform any additional manipulations. The integration has already been set up with the AdGuard ad blocker which will be activated automatically once both apps are up and running.
What if I have questions? Does the AdGuard app have a support service?
Of course, AdGuard has a friendly support team that will be glad to assist you 24/7. If you have any questions, just contact them at
[email protected]
. But please check 
this section
first: 90% of questions are already answered there.
Try AdGuard ad blocker for Android apps for free and feel the difference! Once you go with this app on your tablet or mobile phone, you'll never want to go back.
Additional Information
App Category:
Latest Version:
207.0.0.13.99
Requirements:
Android 5.0+
Report:
Download this APP